CLOES.online Loan Originator CE Available from Florida Association of Mortgage Professionals


CLOES.online now offers Mortgage Loan Originator CE for 2018 through the Florida Association of Mortgage Professionals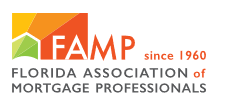 https://www.ourfamp.org/education.php
Charter Oak Systems, LLC, an NMLS-Approved Course Provider (#1405047), is the exclusive online pre-licensing and continuing education provider for the FAMB Foundation.
Featuring Debra Ann Killian, CRMS, CLOES.online offers a variety of online education including the 8-Hour Florida SAFE Act CE, the 1-Hour Florida SAFE Act Core CE and the 7-Hour Federal Core CE.
CLOES.online CE Courses include:
Video-recorded webinar presentations with handouts course materials
Course is immediately available to start anytime and only starts when you pay.
Available on PC, MAC, Tablet, iPhone or Android.
Offline viewing for bad or no connections available.
Entertaining education while you learn. Other online classes are read and click.
Full PowerPoint Slides with detailed notes give a full narrative on each topic
In addition to online pre-licensing and continuing education courses, they offer custom designed courses for specific niches and consult with origination companies regarding education and training.
Discounts are exclusively available to FAMP members!  For more information and to receive the discount code, please contact our office at (850) 942-6411.