1 Hour CT SAFE CE – ID# 11930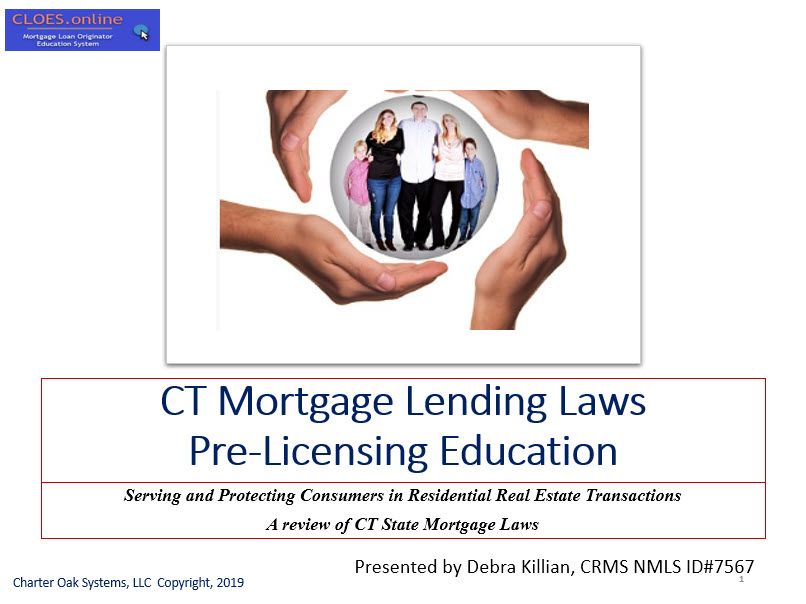 Purpose of the Course:
The course is designed to present topics that are most important to understanding the financing of residential real estate as generally applied to Connecticut.   The material covered provides an understanding of what a mortgage loan originator and a mortgage broker need to know in the performance of the origination of a residential mortgage loan.
To make available quality mortgage education in compliance with the SAFE Act for the primary purpose of developing knowledgeable mortgage professionals to better serve consumers.
Course Description:
This 1-hour course has been developed to exceed the minimum standards as set forth by the SAFE Act.  The course has been developed by industry professionals with many years of combined mortgage, business and teaching experience
Course Materials:
Power Point Presentation Slides and Notes.  (PDF Files To be printed out)
Course Detail Outline in PDF Format. Supplements.  (Links To be printed out)
Additional Required Materials:
Mortgage Calculator, Pen or Pencil and Pad,  Access to the Internet on a PC, MAC or Tablet recommended
Course Evaluations:
Evaluations will be completed at the end of the course.
NMLS Reporting:
Course completions will be uploaded the day after your session ends and in accordance with NMLS provider policies which is within 7 days of completion.
Course Objectives:
The main objective of the course is to provide each student with the necessary knowledge as required by the SAFE Act to meet annual Continuing Education Requirements.  Each module includes the content and objectives along with a Session quiz which are designed to stimulate an understanding of the material.
Course Objectives
Upon completion of this course, students will be able to:
Identify practices that are fraudulent.
Illustrate that MLOs signing documents on behalf of borrowers is fraud.
Explain that MLO's requiring up-front cash payments from borrowers to take an application is fraud.
Understand the significance of the CT Abusive Home Loan Lending Practices Act
Understand Other CT Mortgage and Loan Practices
Understand the CT General Mortgage Statutes
Module 1 Connecticut Mortgage Laws
Session 1   Connecticut Mortgage Laws               (STATE Laws)                                                    60 Minutes
Introduction to Connecticut Mortgage Laws

Identify Criminal Penalties for mortgage fraud
Understand what committing fraud means
Understand that signing documents for customers is fraud
Understand that accepting cash upfront from a borrower is fraud

Definitions and Highlights

Understand key definitions used in the CT state law
Understand the types of licenses available and Identify who may make a loan in CT
Understand the licensing requirements for "qualified" individuals

Requirements for All Licenses

Understand the types of licenses required
Understand the requirements for financial responsibility
Understand the licensing exemption requirements
Understand the eligibility requirements for originators
Understand the requirements for license renewal

Credit Education and Testing

Understand the financial responsibility requirements of licensing
Understand pre-licensing education requirements
Understand the written test requirements
Understand the annual continuing education requirements
Understand the requirements for re-licensure

License Surrendering and the NMLS

Understand the requirements for surrendering a license
Understand the requirements for filing with the NMLS

Referral Fees and Prohibited Acts

Understand who may be paid to originate a mortgage loan
Understand what advanced fees are
Understand prohibited acts and be able to identify them
Understand the responsibilities of supervising individuals

High Cost Loans

Know how to define "high cost loans"
Understand the what high cost loans apply to
Understand what is "prohibited" in high cost loans

Appraisals Veterans and Non-Prime Loans

Identify loan limits to members of the armed forces
Know what insurance lenders are permitted to require
Understand the requirements for a non-prime loan
Understand the meaning of ability to repay
Course Features
Lectures

13

Quizzes

6

Duration

1.5 hours

Skill level

All levels

Language

English

Students

37

Certificate

Yes

Assessments

Yes
INTRODUCTION AND RULES OF CONDUCT

Introduction to Connecticut Mortgage Laws

Definitions and Highlights

Requirements for All Licenses

License Surrendering and the NMLS

Referral Fees and Prohibited Acts

High Cost Loans

Appraisals Veterans and Non-Prime Loans

CASE STUDY

COURSE COMPLETION

FINAL EXAM