Late 8 Hour SAFE Comprehensive Federal CE – ID# 11296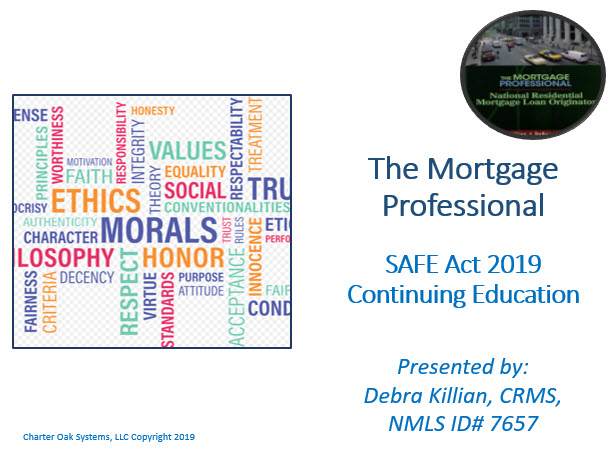 LATE CE for 2019 and all prior years.
Format: On-Line Self-Paced
Course Delivery Time: 8 one hour online presentation videos and quizzes, case study and final exam to be completed within 24 hours.
S.A.F.E. ACT Continuing Education Requirements
The Secure and Fair Enforcement for Mortgage Licensing Act of 2008 (SAFE Act) requires that state-licensed mortgage loan originators (MLOs) complete annual continuing education. To meet continuing education requirements state-licensed MLOs must complete 8 hours of NMLS approved education which include the following:
3 hours of Federal law and regulations;
2 hours of ethics, this shall include instruction on fraud, consumer protection, and fair lending issues;
2 hours of training related to lending standards for the nontraditional mortgage product marketplace; and
1 hours of undefined instruction on mortgage origination.
8 Hours Total
Purpose of the Course:
The course is designed to present topics that are most important to understanding the financing of residential real estate as generally applied to all states. The material covered provides an understanding of what a mortgage loan originator and a mortgage broker need to know in the performance of the origination of a residential mortgage loan. The course is broken up into 5 Module areas as follows:
Ethics for the Mortgage Professional
Updated Federal Mortgage Laws in 2018 and 2019
The Ethics of Borrowers
Non-Traditional Products – What are Lender Options
Federal Regulatory Update for 2018-2019
To make available quality mortgage education in compliance with the SAFE Act for the primary purpose of developing knowledgeable mortgage professionals to better serve consumers.
Course Description:
This 8-hour course has been developed to exceed the minimum standards as set forth by the SAFE Act. The course has been developed by industry professionals with 50 plus years of combined mortgage, business and teaching experience
Course Materials:
Power Point Presentation Slides and Notes. (PDF Files To be printed out)
Course Detail Outline in PDF Format.
Supplements. (Links To be printed out)
Additional Required Materials:
Mortgage Calculator
Pen or Pencil and Pad
Access to the Internet on a PC, MAC or Tablet recommended
Course Evaluations:
Evaluations will be completed at the end of the course.
NMLS Reporting:
Course completions will be uploaded usually within a day of completion.
Course Objectives:
The main objective of the course is to provide each student with the necessary knowledge as required by the SAFE Act to meet annual Continuing Education Requirements. Each module includes the content and objectives along with a Session quiz which are designed to stimulate an understanding of the material.
Course Objectives
Upon completion of this course, students will be able to:
To understand UDAAP and its implications for Mortgage Originators
Discuss disclosure provisions of federal laws related to mortgage lending.
Recognize indicators of mortgage ethical situations.
Identify predatory lending practices and non-traditional products
Discuss agency guidelines on lending and subprime loans.
Understand the recent changes in mortgage regulations
MODULE 1 Ethics Today and The Mortgage Professional
Session 1 : UDAAP (Ethics)
Learning Objectives
To understand what UDAAP stands for.
To understand the definition of "material"
To understand what makes an act or practice unfair
To understand how deceptive acts or practices are used
To know examples of UDAAP acts or practices.
To know the primary concerns under UDAAP
To know what substantial injury is.
To see how material interference and taking unreasonable advantage of people are abusive acts.
To Know if avoidable acts or practices are unfair.
To understand how public policies, affect UDAAP violations
To understand the FTC Test for advertising
To understand the how ethics guides the needs of the customer over your own
Teaching Methods: Power Points, Video PowerPoint Presentation and Quiz
Module 2 Federal Mortgage Laws
Session 2: Truth-in Lending (Federal Laws)
Learning Objectives
To understand what is beneath all laws and regulations on lending
To understand what is loan consummation
To understand what TILA applies to
To understand what loans covered under TILA
To understand the definition of a "PERSON" under TILA
To know how to comply with TILA
To know important definitions under TILA
To know the what the definition of "Application" is under TILA
To understand how loans for personal or family purposes is defined
To understand the definition of dwellings under TILA
To understand TILA advertising restrictions
To understand what are triggering terms in advertising
To understand what advertisements requires additional disclosures
To understand critical criteria of multi-page ads
To understand what are TILA permissible finance charges
To understand which third party fees for conducting closings are considered finance charges
To know how to determine if the APR is correct
To understand TILA permissible tolerances
To understand what makes a finance charge accurate
To know purpose of identifying finance charge violations
To understand how APR is used by consumers to compare between lenders when shopping
To understand how to disclose Finance Charges on Initial LE
To understand "Zero Tolerance" for origination fees and other charges borrowers cannot shop for
To understand the issues that arises from overstated finance charges
To understand the relationship between federal and state laws controlling mortgage originators.
Teaching Methods: Power Points, Video PowerPoint Presentation and Quiz
Session 3: Truth-in Lending Continued (Federal Laws) 1 Hour
Learning Objectives
To understand TILA Refinancing Right to Rescind
To understand who the right of rescission applies to
To know which borrowers must receive a Right to Cancel notice at closing?
To know how to determine the rescission period for a refinance
To understand the extended right to rescind
To understand material disclosure related to rights to rescind
To understand why consumers rescind
To understand effects of rescissions
To understand when creditors are required to refund any money or property
To know what creditors must file in the public record
Teaching Methods: Power Points, Video PowerPoint Presentation and Quiz
Session 4: RESPA (Federal Laws)
Learning Objectives
To understand the primary purpose of RESPA Reg "X"
To know the services covered under RESPA
To know loans covered under RESPA
To understand RESPA Tolerances
To understand the three tolerance categories
To understand change of circumstances and how they affect the CD
To understand the affect If the loan originator selects a third-party settlement service provider
To understand the effect of charges exceeding tolerance for a specific category
To understand RESPA prohibitions
To understand when a thing of value is received in connection with a business referred:
To understand how fees in a marketing service agreement would be legal.
To understand when affiliated business arrangement exists and the disclosure of the arrangement
To know what a "thing of value" is
To understand the effect a charge for which a nominal service has
To know what percentage ownership requires affiliated Business disclosures
To understand marketing service agreements and what makes them legal
To understand the effect when the payment of a thing of value exceeds the value of the services provided
To know how to deal with expenses for web banners, signs and sharing home buyer guides
To understand RESPA Section 8
To know when the CFPB takes action for RESPA violations
To know what kickbacks are
Teaching Methods: Power Points, Video PowerPoint Presentation and Quiz
Module 3 Ethics on Borrower Activities
Session 5: BSA/AML (ETHICS)
Learning Objectives
To understand the Bank Secrecy Act and why we should care
To understand the Anti-money laundering rules and how they affect mortgage professionals
To understand the purpose of the establishment of the Financial Sector Assessment Program
To understand what violations of AML rules are
To know under BSA/AML rules, a how "bank" is defined
To know what an "established customer" is
To know what monetary instruments include
To understand the definition of "structuring,"
To understand what the term "loan or finance company specifically includes
To understand The Customer Identification Program (CIP)
To understand the regulatory requirements for CIP
To know how an "extension of credit" for CIP purposes is considered
To understand the failure to comply with reporting requirements
To understand Section 1010 and 1029 of Title 31 C.F.R. that requires mortgage lenders to establish AML programs
To understand what reportable transactions are
To understand BSA/AML penalties for non-compliance
To know what FinCen is
Teaching Methods:
Power Points, Video PowerPoint Presentation and Quiz
Module 4 Non-Traditional Mortgage Products
Session 6: Non-Traditional Products (Non-traditional Products)
Learning Objectives
To understand how nontraditional products are defined
To understand the general characteristics of subprime loans
To understand the primary reasons for the mortgage crisis
To know what deferred principal refers to
To understand misaligned incentives referring to originators putting borrowers into risky loans
To understand Interest only loans
To understand the Loan Originator Compensation rule
To know what the LO Compensation rules prohibit
To understand what is the "safe harbor" for lenders
To understand the anti-steering rule
To understand Dual compensation
To know why The Interagency Statement on Subprime Mortgage Lending was developed
To understand the common factor in subprime and non-prime
To understand The Statement on Subprime Lending
To understand what is considered in the risk layering assessment.
To understand when borrowers want advice on not paying their mortgage:
To understand loan limits
To understand the Loan Limit Geocoder
To understand how amortization is defined
To understand how the interest rates on a 15-year mortgage compared to a 30 year mortgage
To know what Portfolio loans are
To understand how mortgage payments can lowered by paying down the principal
To understand why Adjustable rate mortgages may be more suited for some buyers
Session 7: Non-traditional Products Continued – (Non-traditional Products)
Teaching Methods:
Power Points, Video PowerPoint Presentation and Quiz
Learning Objectives
To know how to determine the fully amortizing payment on a mortgage
To know the risk level of each interest payment types
To understand the advantages and disadvantages of an interest only loan
To understand Interest and ARM calculations
To know what the life cap is
To know what the interest rate floor is
To understand the components of an ARM
To understand Negative Amortization
To understand the payment options on a negative amortization loan
To understand the start rate on a Negative amortization loan
To understand how payments on HELOCS differ from home equity loans
To understand how Reverse mortgages are designed for borrowers
To understand the most important disclosure for consumers taking a balloon mortgage
To understand how a "construction loan" payments are calculated
Teaching Methods:
Power Points, Video PowerPoint Presentation and Quiz
Module 5 Update of Federal Mortgage Laws
Session 8 Statutory and Regulatory Update (Federal Laws)
Learning Objectives
To understand 2018-19 Regulatory updates during the past year
To understand the 2018 TRID rule
To understand how the tolerance may be reset
To understand what are changes in circumstances
To understand the three-day waiting period for a corrected Closing Disclosure
To understand THE BLACK HOLE
To better understand violations under TRID
To understand when there is a violation in the tolerances, lenders must refund borrowers
To understand what failures to reimburse consumers may constitute
To understand the effect of the CFPB slowing down enforcement actions
To understand ECONOMIC GROWTH, REGULATORY RELIEF AND CONSUMER PROTECTION ACT
To understand how the SAFE Act was amended
To understand the requirements to qualify for transitional licensing
To understand the new law and what consumers must be permitted to do
To know how Veterans applying for a refinance are affected
Teaching Methods:
Power Points, Video PowerPoint Presentation and Quiz
Case Study Exercise Activity
Final Exam
Course Features
Lectures

11

Quizzes

3

Duration

8 hours

Skill level

All levels

Language

English

Students

149

Certificate

Yes

Assessments

Yes
Introduction and Acknowledgement of the Rules of Conduct

UDAAP What Originators Need to Know

Federal Laws Originators Must Follow

BSA/AML Ethical Considerations

Connecticut Mortgage Laws