Mortgage Advisor Compliance Program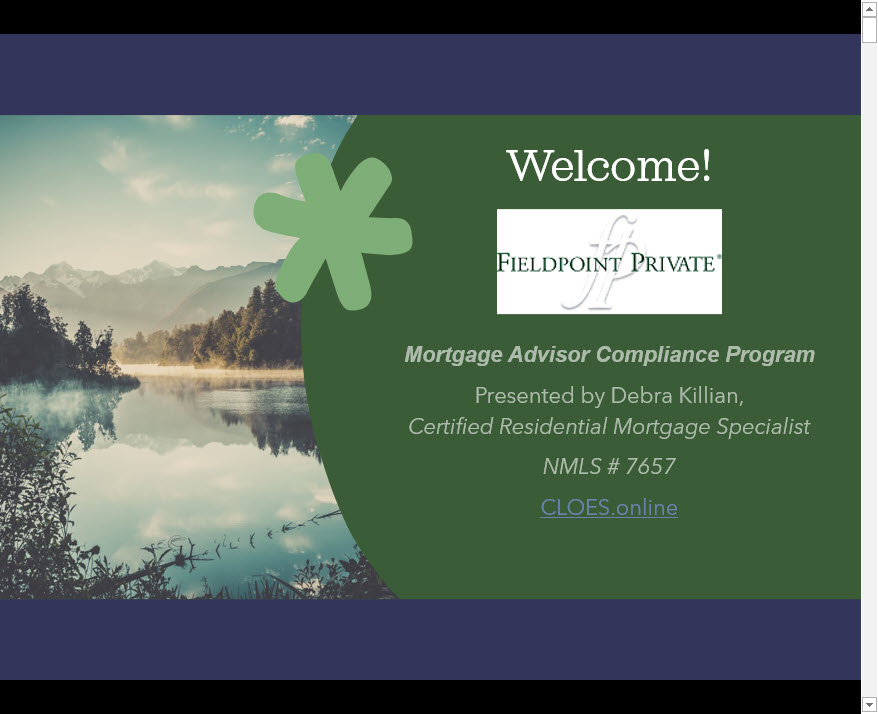 This 18-hour program is designed to provide general knowledge of residential mortgage lending for financial professionals that are employed in an advisory capacity.
The program is designed to be taken over a 4-6 week period.
The course includes the required compliance of federal laws in originating a mortgage application.  It also provides advisors  in the financial field with general loan level concepts and principles that underwriters and credit policy requires.
Each one-hour episode is a self contained topic.  The cumulative result is a broad overview of residential lending.
Course Features
Lectures

0

Quizzes

0

Duration

18 hours

Skill level

Intermediate

Language

English

Students

0

Certificate

No

Assessments

Yes
00 Introduction

A brief overview of what to expect and the perspective to learn from.

1 IMPACT

Every time we interact with a client, co-worker, real estate agent and we have a psychological, emotional and financial IMPACT on their life. Learn about your impact and change the way you see client challenges..

2 Federal Laws - Truth in Lending

The federal Truth in Lending Act has wide and serious consequences when the law is violated. Learn the dos and don'ts in residential lending.

3 Federal Laws - RESPA

The federal Real Estate Settlement Procedures Act is continually challenged by mortgage settlement service providers. Learn how to remain compliant.

4 Federal Law - ECOA

The federal Equal Credit Opportunity Act has long reaching tentacles through financial transactions of all types. Learn how to comply with ECOA in a residential mortgage transaction.

5 Finance Instruments

Real estate financing has many legal consequences for lenders and borrowers. Learn the terminology and what documents transfer what authorities and power.

6 Interests in Real Property

Ownership in residential real estate comes with rights and restrictions. Learn the terms and rights of residential property.

7 #MP Origination Activities

Mortgage loan originators have specific duties and requirements according to federal law. Learn about residential real estate transaction types and why consumers need mortgage financing.

8 The 1003 & Credit Reporting

Every transactions starts with a complete and accurate mortgage application and a credit report. Learn how to start the file for a successful transaction.

9 MP Documenting the File

Mortgage transactions require that all statements and data be verified by third parties. Learn how to collect and review documentation.

10 11MP Conditionless Files - Are They Even Possible?

Mortgage loans can directly impact the consumer's perception of your ethics and your ability to get them to closing. Learn how to anticipate all documents before they become added conditions.

11 6MP Qualifying Income

Underwriters approve loans based on the consumer's ability to repay. Learn how to determine the ability to repay and calculate qualifying income.

12 7 MP The IRS and Tax Reporting

Qualifying income is different than taxable income. This episode shows how to identify legitimate sources of income for qualifying for a mortgage.

13 14 MP Appraising the Collateral

Without real estate lending would be even riskier than it is with collateral. Learn how lenders look at the collateral pledged.

14 PE 13Nontraditional Products

The SAFE Act defined nontraditional products. Learn what they are and how they impact the way you disclose to a consumer.

15 PE14 Adjustable Rate Mortgages

Adjustable rate mortgages are often misunderstood, under-disclosed and can be a great benefit to certain borrowers. Learn the components of ARMS and what consumers need to know about them.

16 PE 18 Ethics in Lending

Ethical behavior is easy to identify. Unethical behavior in lending is even easier to identify. Learn what it means to comply by demonstrating knowledge of ethics.

17 PE19 Ethics in RESPA

The ethics of working with affiliated parties in a real estate transaction can be tricky. Learn how to stay compliant and provide lower costs to consumers.

18 PE20 Ethics and Fraud

Mortgage fraud is a broad term and usually involves an ethical challenge. Learn how ethical behavior can avoid mortgage fraud.