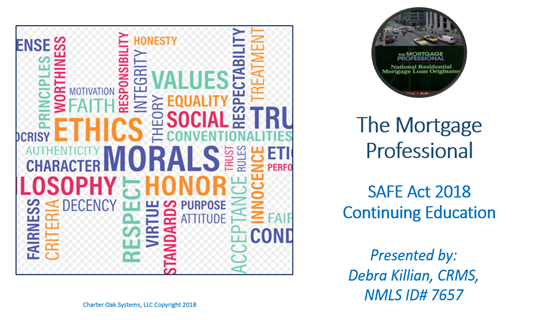 Need to complete your 8-hours of CE online?  Check out NAMB's newest member benefit!
Charter Oak Systems, LLC, an NMLS-Approved Course Provider (#1405047), provides online pre-licensing and continuing education courses for the NAMB Foundation.
Featuring Debra Ann Killian, CRMS, CLOES.online offers a variety of online education including the 8-Hour SAFE Act Comprehensive CE, and the 7-Hour Federal Core CE.
CLOES.online PE and CE Courses include:

 Video-recorded webinar presentations with handouts course materials

Course is immediately available to start anytime and only starts when you pay.

Available on PC, MAC, Tablet, iPhone or Android. 

Offline viewing for bad or no connections available. 

Entertaining education while you learn. Other online classes are read and click.

Additional State PE & CE offered through third-party provider.

Retake exams and quizzes up to 3 times.

Full PowerPoint Slides with detailed notes give a full narrative on each topic

Large test bank of questions for highlighting knowledge deficiencies

CLOEs.online offers a 100% Satisfaction Guarantee – if they fail to meet your expectation for the course, they will gladly refund your course fee any time before the end of your 2-week session.
In addition to online pre-licensing and continuing education courses, they offer custom designed courses for specific niches and consult with origination companies regarding education and training.
NAMB – 8 Hour SAFE Act Comp CE 2018 – The Mortgage Professional
Course ID:    8 Hour Federal Comp 2018 CE
Link:     https://cloes.online/product/namb-8-hour-safe-act-comp-federal-ce-2018/
Price:  $99  –   Discount Price to NAMB members:  $79
NAMB – 7 Hour SAFE Act Core CE 2018 – The Mortgage Professional
Course ID:    7 Hour Federal Core 2018 CE
Link:   https://cloes.online/product/namb-7-hour-safe-act-core-ce-2018/
Price:  $89  –   Discount Price to NAMB members:  $69