Mortgage Professional Practices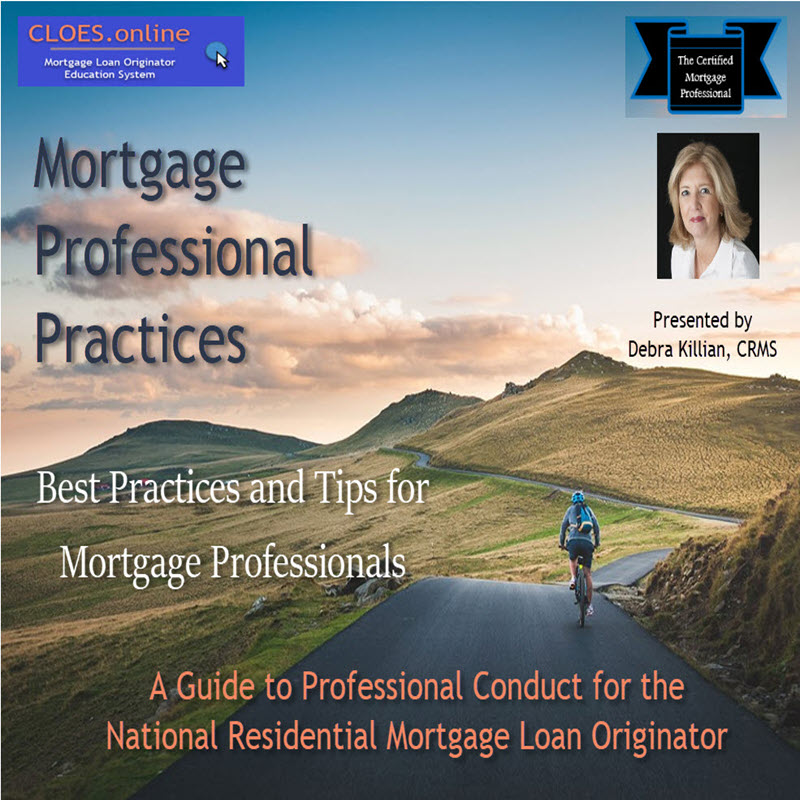 Overview
Mortgage Practices is the only on-demand classroom style course which presents the "Best Mortgage Practices" as described by a person who does the job and has succeeded.
Debra Killian, Certified Residential Mortgage Specialist, presents a story of over 25 years originating mortgage loans, what to do and what not to do.  Debra Killian is the control person of her company which has funded over 3,600 loans totaling over $1 billion.  Each loan customer was referred to her company by following the practices as described in this course.  During a 5 year period her company attracted over 15,000 customers and closed loans with 2,500 customers, some multiple times with no advertising using the methods described in this program.
Each episode is in a series of well-structured classroom style presentations which go right to the heart of originating loans and the issues that affect each transaction.  Go deep into loan transactions and learn the techniques used by Mortgage Professionals that make them experts at what they do.
Debra speaks in your terms and deals in the specifics of a loan transaction only originators or mortgage professionals understand.
Learn "Best Practices" for evaluating prospective customers, taking the application and getting your loans closed.
Objectives
Learn the mortgage origination function from a broad & detailed perspective
Acquire knowledge necessary to originate compliant, profitable mortgages
Originate quality applications, evaluate the borrower, price and package appropriately
Demonstrate knowledge of mortgage math and how to provide solutions
Internalize knowledge to educate and appropriately advise consumers
Master the ins and outs of the purchase business
Program Episodes
IMPACT – What You Do To Your Customers
How Lending Started and Evolved
Loan Origination Activities
Real Estate Finance and Credit Reporting
Mortgage Calculation
Mortgage Math and Qualifying Income
The IRS and Tax Reporting
Origination – The "1003"
Insurances – The Loan Estimate and Closing Disclosure
Documenting Files
Condition-less loan files
Mortgage Product Inventory
Rates, Pricing and Advising
Appraisals – The Collateral Property
Now Get it All Together
Comprehensive Case study
Comprehensive Final Exam & Wrap-up
Marketing – Develop Business Without Cold Calls
Ideal Candidates
An experienced mortgage loan originator at any level is the primary target for this course.
Other individuals who benefit from a better understanding of the loan origination and real estate finance topics include:
mortgage processors
loan assistants
underwriters
loan compliance staff
loan administrators
branch managers
Take one course or take them all you can now experience a new level of knowledge by hearing the "Best Practices in Mortgage Origination" directly from the Mortgage Professional, Debra Killian.  Mortgage Practices is the only on-demand, packaged instructional style course which presents the Best Mortgage Practices as described by a person who does the job today and has succeeded over many years.
Course Features
Lectures

18

Quizzes

17

Duration

18 hours

Skill level

Intermediate

Language

English

Students

1

Certificate

Yes

Assessments

Yes
INTRODUCTION

IMPACT – What You Do To Customers

How Lending Started and Evolved

Loan Origination Activities

Real Estate Finance and Credit Reporting

Mortgage Calculations

Mortgage Math and Qualifying Income

The IRS and Tax Reporting

Origination – The "1003"

The Loan Estimate and Closing Disclosure

Conditionless loan files

Mortgage Product Inventory

Rates, Pricing and Advising

Appraisals – The Collateral Property

Now Get it Together

Comprehensive Case study

Comprehensive Final Exam

Develop Business Without Cold Calls

Course Conclusion and What is Next