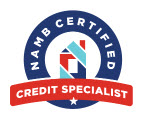 Become a Certified Credit Specialist (CCS)!
Think you know credit? Learn a NEW WAY to educate consumers about credit reports while earning a professional designation!
Monday, September 16th – 11:00 am – 5:00 pm (Emperor's Ballroom 2) – $149 Members; $279 Non-Members
Why get certified? Most originators have never had real professional development, education or training. Consumers believe we know more than we actually do. That includes even the most seasoned originators. The benefits and market differentiation are just some of the benefits of being certified.
Taught by Seasoned Mortgage Professionals and National Trainers, Ginny Ferguson, CMC and Debra Killian, CRMS.
Register today for a "Shedding Light on Credit Scoring."
Gain a market advantage as Ginny takes a deep dive on structures of credit scoring as Debra puts your creativity to the test and teaches how to apply this knowledge with your next customer.
The opportunity to earn more than non-certified peers
The GMA®, CRMS®, CMC® CVLS® CMC® credentials equate to quality and excellence.
Certification offers opportunities for mortgage professionals to achieve a higher level of professionalism.
Higher professionalism is a demonstration of commitment to a superior level of service for consumers.
Certification differentiates you from your competitors.
Your resume/CV will reflect a different level of experience.
Professional growth is just one way for employers to recognize and promote loan officers.
Why Certification?   Because…It's All About Consumers!
Personal Rewards:
Confirmation that you've chosen the right career path for yourself
Confidence in having achieved distinction in one of the most competitive industries in the United States
Pride at being a part of an organization that supports its members through career growth opportunities
Demonstration of commitment to advanced education and demonstrating your skills to provide quality service
Confidence builders are conducive to strengthened relationships
Career Rewards:
Perform professional in-depth, credit analysis
Learn to educate your customers
Differentiate yourself by learning better pricing
Understand how reason codes impact score and price
Demonstrate mastery of credit review
Gain knowledge of how trended credit data affects files
Reduce touches on files and improve turn-times
Eliminate conditions
NAMB Rewards:
Certificate and lapel pin recognizing you as a certified mortgage professional
Authority to use earned credentials and logo on materials including websites and advertising promoting your brand.
Access to self-marketing materials including a welcome kit with tools to help differentiate yourself in the market
Inclusion in NAMB's "Directory of Certified Mortgage Professionals" (o-line and in the NAMB magazine) 
Priority listing on "Find-a-Broker" search engine
Opportunity for industry recognition via print and online media communications
Special recognition at NAMB conventions
Join us! Your customers will appreciate it.