CLOES.online NMLS Continuing Education 2018 Results of Participation
Thanks to all who participated in our online NMLS Continuing Education program for 2018.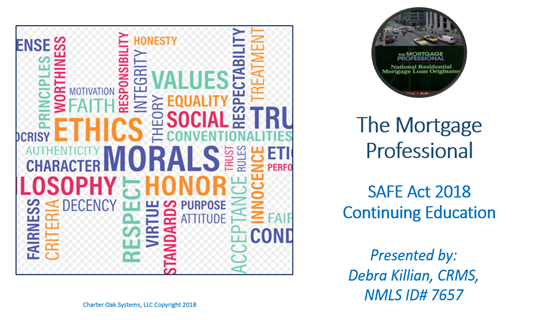 We would like to share some of the experience with you.
Most would agree that the classes required concentration on the material to efficiently complete the quiz questions. Hearing the information from a peer who speaks your language enabled your mind to adapt to the format quickly.
The process which appeared difficult at first soon became easier as your mind began to think about what someone was saying only for the purpose of being able to answer a simple question; "What is most important about what is being said?" You start to think differently when listening.
During the program you responded to 45 groups of specific questions in an 8 hour period. For those of you that completed it, your mind has been changed forever. Going thru a rigorous mental process 45 times every 5 minutes is a mental exercise most individuals cannot accomplish. You did, so congratulate yourself! The process proves itself in that the number of quiz attempts decreases from 3 at the beginning to 1 by the end of the course. Nobody want to waste time retaking the quiz.
Actually, Loan Originators are trained in this process of listening for specific information. When taking an application, information gathering interviews requiring loan originators to listen carefully for information provided by borrowers, remember that information and use it in gathering documentation and submitting a loan to an underwriter.
When compared to the typical live CE format, which permits mental relaxation, your experience was an investment in your mental capacity to be better at your profession and to serve your customers.
So, to see if the process works for you, think about what you know now about the following objectives:
Understand the NMLS's purpose and its objectives to educate MLOs' (ROC). Licensing equals Professional Status.
Know how UDAAP affects all aspects of the mortgage process and protects consumers from deceitful acts of lenders.
Appreciate how Federal Laws through TILA and RESPA apply to protect consumers in real estate transactions with disclosure.
Realize the impact of illegal activities on the Real Estate Market and the protections put in place by the government.
Expand you knowledge of Mortgage Products to better serve your customer needs.
While you were struggling with answering simple quiz questions we hope we have accomplished ours of being more informed.
Our continuing education course are designed to enhance understanding of material as it applies to the loan origination process. As practicing Mortgage Professionals we share with each of our students a unique understanding of the commitment each of us make to our customers. As loan originators we are placed in a unique situation whereby we must make a personal commitment to our customers, " I will get you that loan, it will close on time and you will have a new home." This commitment is based upon our understanding of the complete financial picture of 1 or 2 individuals and the complex requirements of not only the lender but my employer. And the rules keep changing.
We understand all aspects of the mortgage process and seek to share many of the techniques that have worked for us over the past 20 years. As we enter a "New Age" in mortgage lending, new techniques will need to be developed and honed to our complex process. It has been though the implementation of these and many Professional practices that has enabled 2 people to be personally responsible for over 3,500 loans totaling over $1 billion in loan volume.
So with this though in mind we hope to see you next year with our 2019 Mortgage Professional CE program and please consider trying some of our other classes.
The surveys for the CE courses reflected what we expected to see. A majority of the students appreciated hearing some new content from a peer who was experiencing the same issues as them and in the same business environment.
We now offer our Mortgage Professional Certification program which provides over 60 Hours of Video Course Presentation and a complete assessment program. Ensure that you and your originators are educationally compliant and get a fresh perspective on your career.
Please continue to email us with your questions and comments and watch the BLOGs at CLOES.Online.
Congratulations! You have joined course.
Don
Donald DeRespinis, CPA, CITP, CGMA
Administrator, NMLS ID# 81076
Charter Oak Systems, LLC
Email: don@cloes.online
Professional Profile
Web : https://cloes.online
Phone: (772) 228-6115 x 103