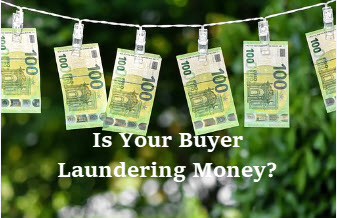 Is Anti-Money Laundering (AML) Mandatory Compliance Coming for Realtors?
Do you know how money is actually laundered through real estate transactions?  Do you know your Anti-Money Laundering (AML) Training Requirements?
Between 2015 and 2020, at least $2.3 billion was laundered through US real estate, with estimates by Washington, D.C. think tank Global Financial Integrity (GFI),  putting the number much higher.
The real estate sector is now coming under increased scrutiny from government regulators and enforcement agencies for its compliance with anti-money laundering and reporting obligations.  Consider that Fairfield and Litchfield Counties in Connecticut has been added to the Geographic Targeting Orders.
CLOES.online is excited to announce Dynamic Directions has received Connecticut C.E. approval for our newest 3-hour, real estate continuing education course titled  Money for Sale. This course was written by national real estate and mortgage instructor Debra Killian, Director of  Mortgage Compliance, Education and Training.  
Money for Sale provides real estate professionals with anti-money laundering voluntary guidelines aimed at increasing awareness, knowledge, and understanding of the potential money laundering risks surrounding real estate, and to enable real estate professionals to identify and to take practical measures to mitigate these risks.
The National Association of Realtors (NAR) is strongly encouraging voluntary compliance.  Voluntary compliance is always looked at more favorably by regulators.
You can find more information in NAR's podcast on lending and money laundering.
Connecticut real estate professionals will receive 3 hours of C.E. for completing this course.  The course is not yet approved for C.E. in any other states as of this writing.
For more information contact Debra Killian at deb@cloes.online or 866-256-3766 or Register here.