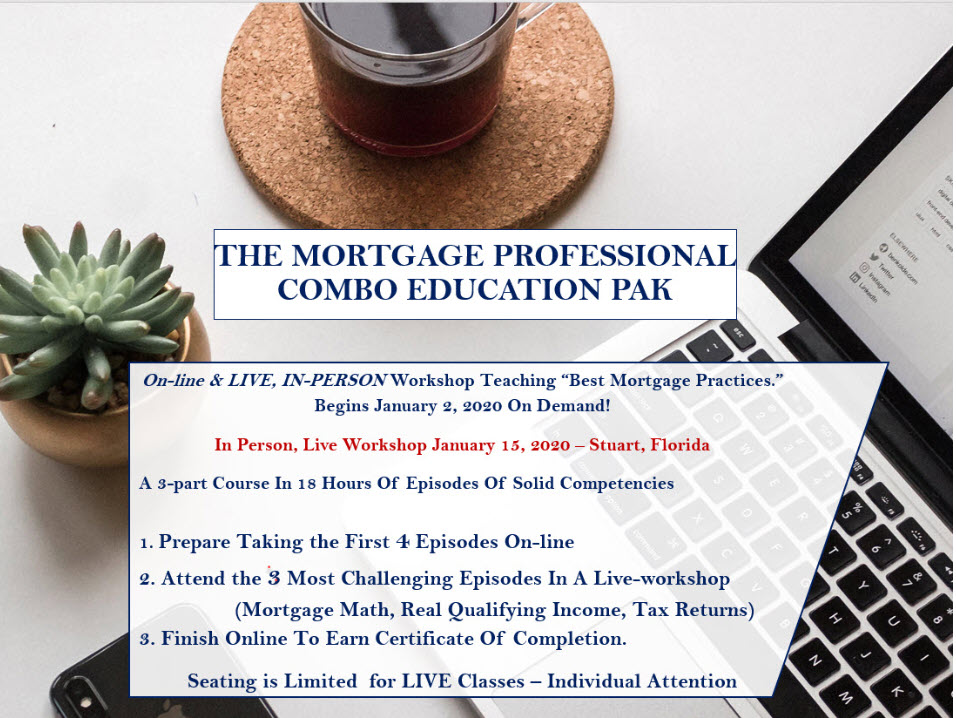 January 2, 2020 Originator 4-4-10
Some content is more easily digested and retained when taken online. It depends on the depth of the content, the experience of the student and the need for reinforcement. You asked for it…we got it!
LIVE workshop January 15, 2020; 9:00-5:00 Martin County Realtors of the Treasure Coast, Stuart, FL. Limited Seating! Lunch included.
Mortgage Professional Practices available in a new 4-4-10 format offering 18 episodes in a combination delivery. The first 4 episodes are completed online, the next 4 episodes in a live, workshop style classroom with the 10 remaining episodes online connecting the dots!
There are many benefits to combining live and online formats in the same program:
4 episodes every originator would benefit from easing into the material and setting expectations
by the day of the live session there is a built-in rapport with the instructor
4 live episodes in a workshop are conducive to learning deeper more challenging topics
workshops allow students to practice while learning in a challenging environment
more individualized attention for maximum results
10 online episodes connects the dots from live back to online
continuity with instructor, delivery and topics
only one full day out of office with the benefit of a week of training
programs are more effective and less costly than all live courses
CLOES.online's first 4-4-10 program starts online January 2, 2020.
Email deb@cloes.online 866-256-3766.