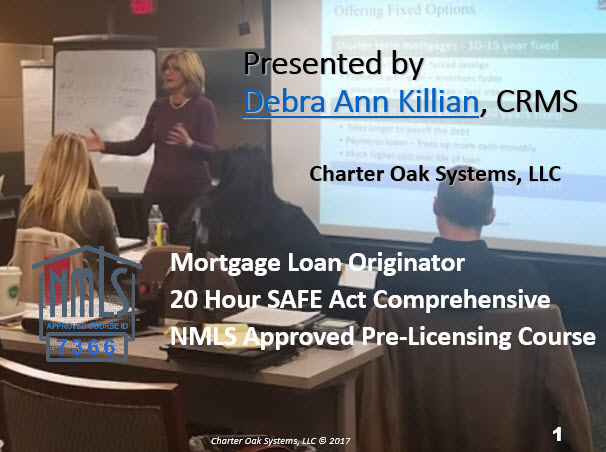 For Course Details see here: 20 Hour SAFE Act
New low price of $349. including $30 NMLS fee
This course is NMLS approved in all 50 States.  NMLS Course # 7633
Any additional state course can be added to this course to meet the individual state requirements see: STATE SPECIFIC REQUIREMENTS
A New Kind of Licensing Course
Welcome. This course is designed for individuals preparing to become state licensed Mortgage Loan Originators "M-L-O's" for short.
It meets the requirements of all 50 States for the 20 Hour Pre-licensing Education mandated by the S.A.F.E. Act
It provides a detailed analysis of the laws and regulations covering the origination of a mortgage loans.
It gives students basic mortgage information and skills necessary to originate a compliant mortgage loan
It lays the groundwork for a lucrative career in mortgage lending.
and for some details…..
Video Webinar Presentation of the entire 20 hour NMLS course.
Deb Killian has taught over 4000 students.
Course is immediately available to start anytime.
Available on PC, MAC, Tablet, iPhone or Android.
Offline viewing for bad or no  connections available.
Stay entertained with the video while you learn.  Other online classes require 20 hours of reading and testing
Additional State PE, if required offered through third party provider in an online read and quiz format.
Retake exams and quizzes up to 3 times.
Full PowerPoint Slides with detailed notes give a full narrative on each topic
Large test bank of questions for highlighting knowledge deficiencies
Your purchase of this course entitles you to credit your purchase price towards the MORTGAGE PROFESSIONAL CERTIFICATE program.
**We offer a 100% Satisfaction Guarantee – if we failed to meet your expectation for the course we will gladly refund your course fee anytime before the end of your 2 week session.
This course is the fundamental knowledge course for our comprehensive MORTGAGE PROFESSIONAL program. You can view the details of the programs here: https://cloes.online/course/mortgage-professional-certification/