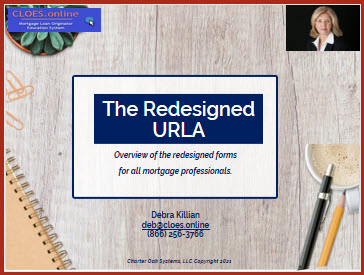 Redesigned URLA Video – How to Use the 2021 Loan Application
Ahhh…another industry change while volume is at an all time high!  Just what we need in 2021! 
We started talking about the new URLA in 2018; and then it changed…and then it changed again.  Finally! After several years of the GSE's designing formats, revising (adding and deleting) data points, and changing implementation dates…March 1, 2021 is upon us. So is…the URLA, the URLA-Additional Borrower and the Lender Loan Information.  Bye-bye Co-Borrower!
By now you probably know that all new loan applications originated on or after March 1, 2021 must be on the Redesigned Form.  Almost gone is the 3.2 file.  I say almost because there is always a little transition period between the old and the new!  By March 1, 2022…lenders will not accept a 3.2 file.  So Welcome…the 3.4 file!  (If you are curious what happened to 3.3, I've been informed it morphed into 3.4 or we could have had Versions 3.3.1, 3.3.2, 3.3.3…)
To kick off this momentous occasion, we present you an Redesigned URLA -An Originator's Perspective on the Redesigned Form.   The objectives of this video are:
for mortgage professionals to again an understanding of how to originate using the new 1003
learn how to use the form to the lender's and consumer's advantage
begin to consider what underwriting changes may occur
gain insight on best execution for better customer experiences
learn the components of the Borrower Information and Lender Loan Information
Our video goes through the entire form and provides some commentary on the why, what and how.
The new URLA will flush out issues!  It will force originators to have a more in-depth conversation with consumers, capturing issues up-front before they become problems.
It will reduce underwriting turn-around times, cut down on conditions, and level the field for recruiting "a 3.4 MLO", all ultimately improving the customer experience.  Competent MLOS can document the file better…they just need to understand why the data is asked for and how the answer will be documented.
One other reason to use the new form: portfolio lenders will be able to sell portfolio loans with a 3.4 file.
Here are the FAQs published by Fannie Mae.  One thing is clear:  the GSEs give lenders freedom to decide how to interact with consumers as well as how to process the data.  
What is your perspective?  Deb Killian:  deb@cloes.online