Upgrade to Higher Earning with a Program of Courses in Mortgage Professional Practices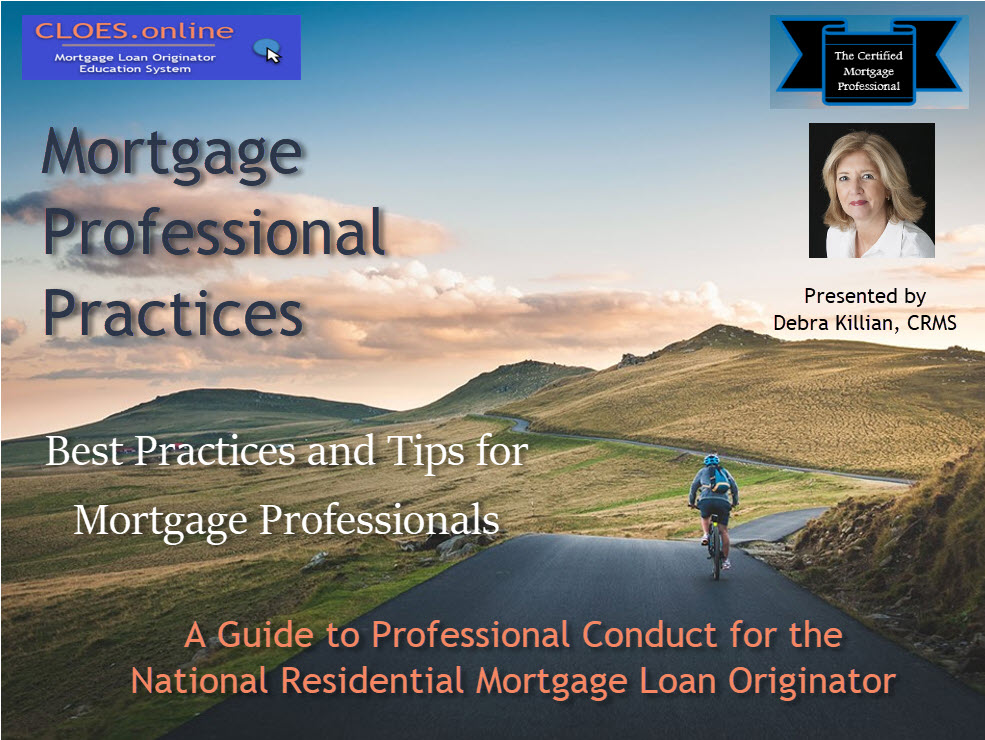 CLOES.online is now offering Mortgage Professional Practices, a complete on demand, video course for originating mortgage loans that goes far beyond any other training. This course will change the way you originate a loan, from taking the application to expanding your network. In a series of hour-long episodes, we take you through the loan process like you have never seen before. We share our secrets of how to talk to customers and what to do when originating residential mortgage applications.
Take one episode or take them all. Experience a new level of knowledge by hearing the "Best Practices in Mortgage Origination" directly from the Mortgage Professional, Debra Killian, a Certified Residential Mortgage Specialist. Mortgage Practices is the only packaged, instructional, classroom style course which presents the Best Mortgage Practices as described by a person who does the job today and has succeeded over many years. Debra has been writing courses and teaching mortgage practices over her 25 year career, helping thousands of originators achieve better results. The chances are good it can help you or your employees.
Debra Killian presents her story of over her career originating mortgage loans. She shares what to do and what not to do. Debra is the control person of her company which has funded over 3,600 loans totaling over $1 billion with an average loan size of $275,000. She built her business one loan at a time. All business was personally referred to her company without any purchased leads, advertising or marketing costs, just excellent service based on competency an and integrity.

This program is a series of well-structured, classroom style presentations which go right to the heart of originating loans and the issues originators face every day. Debra speaks about the specifics of a loan transaction in a way originators and mortgage professionals can understand. "It's all about connecting the dots. Until now, education has been disjointed. There was no one place to obtain on-going, real world training. We are committed to providing a comprehensive program that takes originators through a journey of learning," says Debra.

Objectives of this Course
Learn the mortgage origination function from a broad & detailed perspective
Acquire knowledge necessary to originate compliant, profitable mortgages
Originate quality applications, evaluate the borrower, price and package appropriately
Demonstrate knowledge of mortgage math and how to provide solutions
Internalize knowledge to educate and appropriately advise consumers
Master the ins and outs of the purchase business
Program Episodes
IMPACT – What You Do To Customers
How Lending Started and Evolved
Loan Origination Activities
Real Estate Finance and Credit Reporting
Mortgage Calculations
Mortgage Math and Qualifying Income
The IRS and Tax Reporting
Origination – The "1003"
Understanding Insurance, the LE and CD
Documenting files
Condition-less loan files
Mortgage Product Inventory
Rates, Pricing and Advising
Appraisals – The Collateral Property
Now Get it Together
Comprehensive Case study
Comprehensive Final Exam
Develop new business without cold calls
Ideal Candidates
State-licensed mortgage loan originators
Registered bank loan originators
Credit union loan originators
Mortgage processors
Loan assistants
Underwriters
Loan compliance staff
Loan administrators
Branch managers
Mortgage marketing staff
Mortgage executives
Find out More HERE
For other information visit CLOES.online