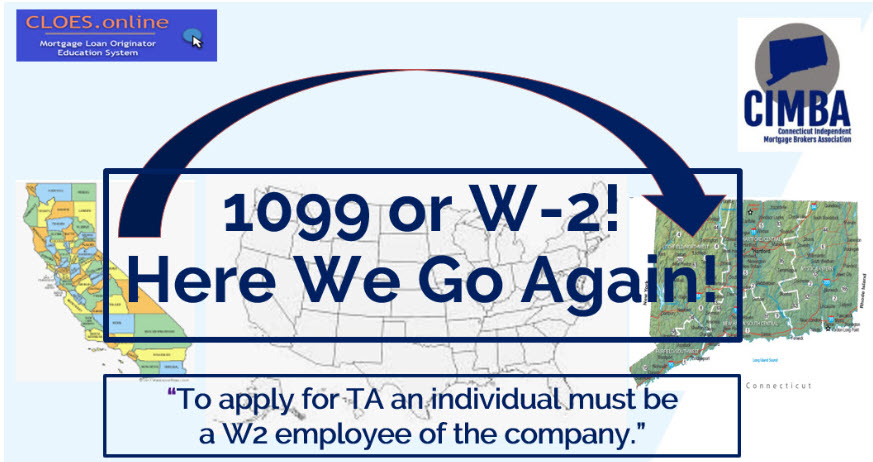 CIMBA LIVE 12/12/19 11:00am-12:00 pm. 1099 v. W-2
Connecticut Independent Mortgage Brokers Association offers live webinar.
While a renewed interest in employee classifications started in Califorinia, it is spreading across the country. The recent California Dynamex Case codified the terms under which a "worker" can be classified as an independent contractor under the "ABC" Test (Assembly Bill 5). The California law takes effect January 1, 2020 and many states are following suit. In March 2020, the CA Supreme Court will rule on whether the bill can be retroactive; a descision which many businesses will be interested in come spring.
Considering the income potential of loan originators, misclassifying "workers" as 1099 independent contractors is a costly mistake for mortgage companies.
As non-depository mortgage lenders and brokers grow marketshare, the more scrutiny the industry may face from regulators.
In this webinar we discuss:
The "ABC" test to determine proper worker classification
The Memorandum of Understanding between the IRS and the Federal Department of Labor
Why this issue is important for all states and the federal government
How employers get caught
Back taxes, penalties and interest – a financial burden you may not recover from
Why we expect more enforcement than in the past
What you should do TODAY to protect your business
This webinar is sponsored by CLOES.online. Register here.