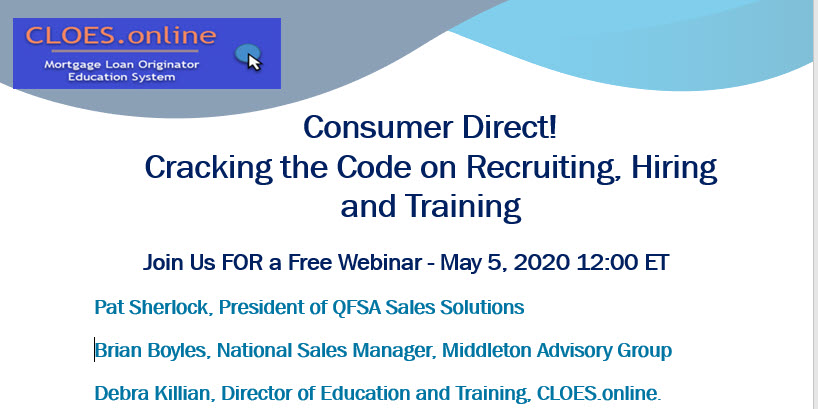 Hey…What's a Tripod? I Want One!
Learn how to get YOUR Tripod. Free LIVE Webinar on May 5th 12:00 Noon ET!
In this COVID-19 world, companies need all possible resources at their fingertips to keep businesses going and growing to recruit and provide quality professional development in a safe environment.
Is consumer direct the future of mortgage origination with all the hidden pitfalls? While it may be a smart strategy for banks and credit unions to grow market share, retain servicing and create excellent customer experiences, starting from scratch or worse pivoting from inside sales to outside sales to enjoining them all could create unrest and negatively impact customer service!
Topics covered:
9 Traits of Evaluating Sales Candidate

Differences in Recruiting Strategies: Experienced vs. Rookie

Successful Recruiting

What Does Your Training Look Like to a Recruit?

Once Rookies Graduate…What's Next?
Having a Tripod consists of recruiting the right people, providing real mortgage know-how and teaching sales skills to get originators producing as compliantly and profitably as quickly as possible. It allows companies to outsource standard needs in a customized way. It allows companies to utilize internal training staff on the company specific policies, procedures and processes. It allows internal on-boarding and training staff to focus on tightening up their environment.
Outsourced training can be live or on demand. It supplements what goes on internally. Resources usually not available to each company are a by-product of using industry subject matter experts, who can hold your staff accountable, without the risk of disrupting the work environment.
Every day mortgage companies, banks and credit unions are recruiting new employees. The task of finding new originators whether rookies or experienced, can be expensive, time consuming and risky. As with training, doing anything ONCE, is just that. Having a plan that morphs with your needs, addresses issues specific to your company and creates a momentum that does not get disrupted requires a sequence and team that provides quality candidates, helps get them up and running as quickly as possible and increases chances of success with minimal turnover.
deb@cloes.online (866) 256-3766