Mortgage Originator NMLS Continuing Education 2019 – Online and On Demand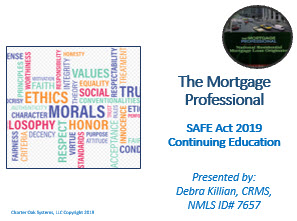 Take a look Here. 
At last Online Continuing Education worth taking!  We have taken CE courses since 2011 and they are all the same.
Presenting Deb Killian in her National NMLS Continuing Education course for 2019.  SAFE Federal 2019 CE – The Mortgage Professional.  Find out what it means to be a Mortgage Professional.
These courses are for individuals who are state licensed Mortgage Loan Originators.  They meets the requirements of all 50 States for Continuing Education mandated by the S.A.F.E. Act.  The course is NMLS ID# 10004 and approved for 8 Hours of Continuing Education Credits.
Each course provides a detailed analysis of the laws and regulations covering the origination of a mortgage loans.
They give students basic and advanced mortgage information and skills necessary to originate a compliant mortgage loan.
The courses lay the groundwork for a lucrative career as a Mortgage Professional.
Video Webinar Presentation of the entire NMLS course.
Deb Killian has taught thousands of originators.
Course is immediately available to start anytime and only starts when you are ready.
Available on PC, MAC, Tablet, iPhone or Android.
Stay entertained with the video while you learn.  Other online classes require hours of reading and testing.
Additional State CE, if required, offered through third-party provider in an online read and quiz format.
Full PowerPoint Slides with detailed notes give a full narrative on each topic
Large test bank of questions for highlighting knowledge deficiencies and sharpening learning skills.
**We offer a 100% Satisfaction Guarantee – if we failed to meet your expectation for the course we will gladly refund your course fee anytime before the end of your  session.
Take a look Here. 
This program will be available on demand and on your time. Contact deb at deb@cloes.online