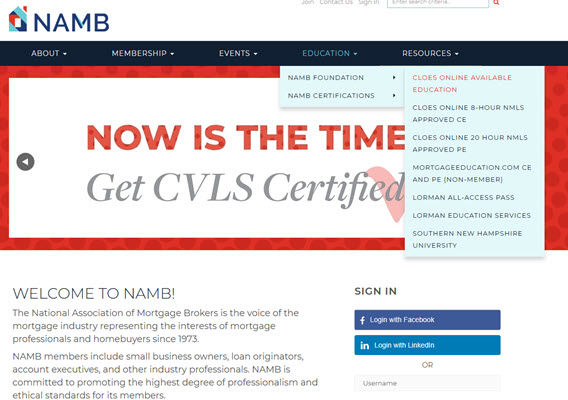 NAMB Offers Mortgage Professional Practices Course!
Posted by

Categories

Certification, Compliance, Learning Management, MLO C.E., Mortgage Competencies, Mortgage Insights, Mortgage Recruiters, New Mortgage Program, Originators, Processors, Underwriters

Date

February 5, 2019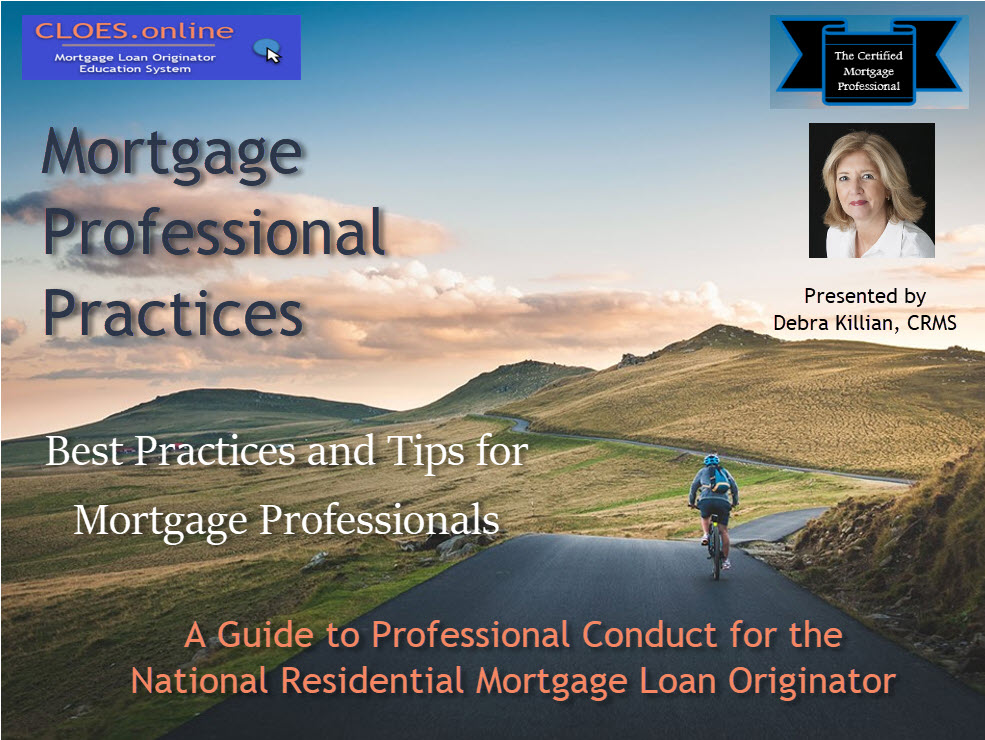 Charter Oak Systems, LLC and CLOES.online is pleased to announce the National Association of Mortgage Brokers (NAMB) now offers a new Online, On Demand Video-Recorded course, Mortgage Professional Practices.
NAMB is committed to continuing to build a robust, education platform to support the professionalism of all mortgage originators. Most originators agree, none of us were really ever educated. Yes, we got on-boarding, prospecting, internal systems, policies and procedures training but, where would we have gone for real mortgage competency-based education? Most also agree the SAFE Act 20-hour Pre-licensing education doesn't prepare anyone for loan files.
Mortgage Professional Practices cover topics and discussions even seasoned originators have never heard of or thought about. It's time to know the why. It's time to connect the dots. It's time for originators to know more than how to put a file together and hope it closes. Hope is not a strategy!
This course is eighteen video-recorded episodes of the real mortgage business. What we do, how we should do it and why we do it that way. it is the foundation of education for real life practices. Mortgage Professional Practices includes the following topics with assessments along the way, a case study and a final exam.
IMPACT – What You Do to Customers
How Lending Started and Evolved
Loan Origination Activities
Real Estate Finance Principles
Mortgage Math and Qualifying Income
The IRS and Tax Reporting
The New URLA "1003"
Insurance – The LE and CD
Documenting the file
Getting Condition-less Approvals
Mortgage Product Inventory
Rates, Pricing and Advising
Professional Advisors
The Collateral Property
Now – Structure – Get it All Together
Comprehensive Case Study
Comprehensive Final Exam
The actual completion time may vary by student. Newer mortgage originators may need to take more time as the course takes a fairly deep dive into all things origination.
Mortgage Professional Practices will also apply toward the education requirements for a NAMB Certified Residential Mortgage Specialist (CRMS) or Certified Mortgage Consultant (CMC).
For more information, email me at: deb@cloes.online.