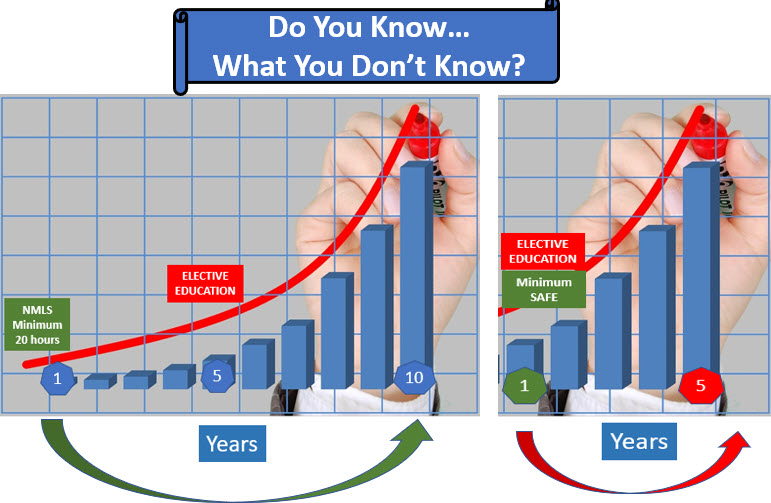 Originate More! What Top Producers Know…That You May Be Missing.
A picture is worth a thousand words! Take a good look at that image; then ask yourself, how long will you wait before you really learn the business? Why do top producers have time to bring in more business?
Minimum knowledge to fill out a 1003 doesn't cut it! To assume it's enough, indicates the lack of knowledge about the real business of residential lending. Analysis, critical thinking, mathematics, problem solving, communications and the ability to educate consumers is not only required, but is critical to succeed!
In-depth knowledge and analysis of documentation coupled with an ability to anticipate, sets top producers apart! There is no secret sauce. Every data point on a mortgage application must be proven. Every guideline must be met. Knowing and providing what is required before a file is submitted increases customer satisfaction tenfold. The goal of every transaction is to get three conditions on the first underwrite! Is it possible? YES! The differentiator?
The knowledge you need…that you may not have.
The Harvard Extension School of Professional Development cited 10 Emerging Skills for Professionals. Invest in your future. "There is no shortage of opportunities for professional development. Once you've determined the areas that need strengthening, take the leap. You'll be thanking yourself later." by Shawon Rodger
Hope is not a strategy! It is time to commit to learning what high-producing originators know; the most efficient path from application to closing!
Ask yourself: if you don't have time to do it right, when will you have time to do it over; and at what cost? Take inventory of your skills. Were you taught what you need to succeed? Knowledge enables high producers to originate more and babysit less. Are you ready?
To be fair, none of us are born with these skills; they are acquired with desire and commitment to excellence! Technology is not enough! Theory, deep knowledge, analysis and the ability to connect with consumers will increase the trajectory of your career.
If you are serious about an origination career, in the business for 6 months or 16 years you can't afford NOT to OWN these skills.
Deb@cloes.online (866) 256-3766